Designer: Marc Jacobs
Marc Jacobs; Head designer for Marc Jacobs, marc by marc jacobs, creative director of french fashion label Louis Vuitton and one of my favourite designers of all time. However, all 3 are extremely different. Marc Jacobs is very haute couture and ready to wear whilst marc by marc jacobs is quite casual and known for its beautiful accessories and Louis Vuitton always displays beautiful, lavish garments, to match their incredible catwalks. I look forward to seeing all his catwalks every season as he puts on such a magical display, each one parallel to the collection he's produced.
For instance, the Louis Vuitton SS12 catwalk transported us to our inner child with pastel colours, carousels and a romantic feel that every woman could only desire. This is just one of the reasons why Marc Jacobs is such a high-profile designer today. With a massive celebrity following Jacobs is set up for the rest of his life. Marc by marc jacobs is focused towards the younger generation who love the designer but either can't afford the prices of the Marc Jacobs and Louis Vuitton collections or aren't brave enough for some of his daring collections.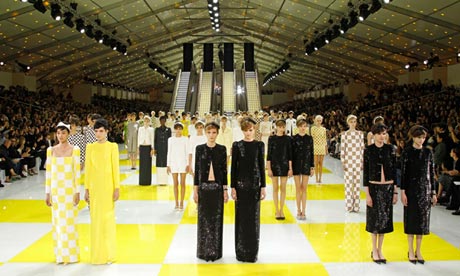 Furthermore, I was lucky enough to see the Louis Vuitton x Marc Jacobs exhibition in Paris this summer. It took place in the 'Les Arts Decoratifs' museum and showed the transition that the Louis Vuitton label made as Marc took over. It gave an insight into the history of Louis Vuitton, starting with the first LV trunks from World War Two and finishing with some of the latest shows Marc has put on for the brand.
(There is a book out on the exhibition which can be purchased from netaporter....this should be on everyone christmas list!)